Dog Boarding San Angelo: Discover Stress-Free Pet Care with WoofConnect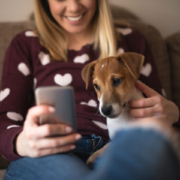 Planning a trip but can't bear to put your pup in a crowded kennel facility? Looking for an affordable alternative for quality dog boarding in San Angelo, TX? WoofConnect offers the perfect solution! Our app connects local dog parents for home boarding services, so your dog stays happy and comfortable in a loving home while you're away.
Escape Overpriced, Impersonal Kennels
Let's face it, traditional kennels are less-than-ideal for your four-legged friend. The noisy, hectic environment causes stress and anxiety in many dogs. And at $25-$60 per night in boarding fees, the cost quickly adds up!
With WoofConnect, you can skip the sterile kennel atmosphere and find your dog a welcoming place to stay right in your San Angelo neighborhood. Local dog owners provide home boarding for free as part of our community pet exchange program. Your dog will feel right at home in a cozy house with someone to give them plenty of love and attention.
Home Away from Home: Comfort and Care in San Angelo
The San Angelo pet sitters treat your dog like one of their own. With WoofConnect, your pup gets:
A family environment full of affection
One-on-one care catered to their unique needs
Fun playtime with a new furry friend from the same breed
Exercise and potty breaks throughout the day
Their usual feeding schedules followed
Your sitter will provide updates so you can relax knowing your dog is comfortable and in good hands while you're away in TX.
Easy App for Finding Local Dog Lovers
Downloading WoofConnect and finding a sitter is quick and convenient:
Create your dog's profile including breed, age, personality, and care needs
Browse sitters in your San Angelo neighborhood
Arrange a meet-and-greet to introduce your pet to their potential new host
Chat with potential hosts to find the perfect fit
Secure your free home boarding dates!
With San Angelo sitters just around the corner, your dog stays in familiar surroundings. No need for long drives to a boarding facility across town.