WoofConnect Frisco: Free, Loving, Home-Based Dog Care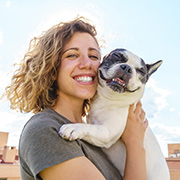 Vacations are meant to be fun and relaxing, but for dog owners, it can be a challenge to find the perfect care solution for their furry companions. Leaving your beloved pup at a chaotic and impersonal dog kennel is not an appealing option, especially when it comes to their well-being and happiness. That's why WoofConnect is here to offer you an incredible alternative – completely free, home-based dog care in Frisco. With WoofConnect, you can rest assured that your dog will be in the hands of a caring and knowledgeable sitter who understands their breed and energy level. Your furry friend will enjoy a relaxing retreat of their own while you indulge in your vacation bliss.
Linking Dog Owners in Frisco for Boarding
Find connections with fellow dog owners in your area who have pups of the same breed/mix and age as yours. These furry buddies understand each other seamlessly and share the same excitement for life, ensuring a perfect partnership!
Sitter Synced with Your Dog's Breed and Energy Level
Picture this: you're walking with your dog and bump into someone with a nearly identical dog of about the same age. Haven't you seen how those pups naturally gravitate towards each other? They're a perfect match because they speak the same "language" and often share the same energy, making it easy for them to understand each other's behavior. This emotional connection is a key part of WoofConnect's approach. Help your dog find a soulmate and download the WoofConnect app.