WoofConnect Midland: Free Dog Boarding in a Cozy, Family-like Environment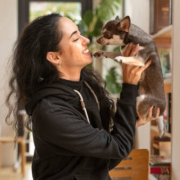 As a devoted dog owner, ensuring your four-legged friend's well-being is a top priority when you're away on vacation or a weekend trip. Finding a reliable and loving dog sitter in Midland, Texas, can be a challenge, especially if you're reluctant to spend money on expensive dog boarding facilities. WoofConnect emerges as the perfect solution for dog owners in Midland and the surrounding areas.
Bringing Midland's dog owners together for exceptional dog boarding experiences
Connect with fellow dog owners in Midland, TX, who have furry companions of the same breed/mix and age as your own. Dogs with similar backgrounds and energy levels naturally get along, ensuring a harmonious match. WoofConnect is dedicated to helping you find the perfect playmate for your beloved pet within the Midland community.
Find the perfect nurturing dog sitter through WoofConnect
WoofConnect is a user-friendly app designed to help you discover the ideal dog sitter for your furried friend in the Midland area. Simply download the app, create a profile for you and your dog, and explore available sitters. WoofConnect's sitters are all experienced, loving dog enthusiasts who understand how to care for your precious companion.