WoofConnect Carrollton: Free Home-Style Dog Boarding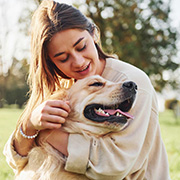 When planning a vacation, it's important to ensure your dog will be well-cared-for, especially when friends or family members are unable to pet-sit. Many dog owners are hesitant to choose dog kennels due to their chaotic environments and the risk of illness or injury. WoofConnect presents an alternative, offering free dog boarding in Carrollton with a cozy, home-like atmosphere. A well-informed sitter, who understands your dog's breed and energy level, takes care of your furry friend in their own home, providing a worry-free getaway for both you and your canine companion.
WoofConnect brings together dog owners in Carrollton for boarding
Discover a match with local dog owners who have dogs of the same breed/mix and age as yours. These pups communicate effectively with one another and have similar energy levels, creating the perfect pairing!
Sitter is knowledgeable about your dog's breed and energy level
Imagine this scenario: you're walking your dog and come across someone with a nearly identical dog, around the same age. Haven't you noticed how those dogs always seem drawn to each other? They make an ideal match because they "speak" the same language and often share the same energy and understanding of each other's behavior. This compatibility is a key component of WoofConnect's app. Help your dog find a 'soulmate' by downloading the WoofConnect app.