WoofConnect: Loving, Free Home-Style Dog Boarding in Killeen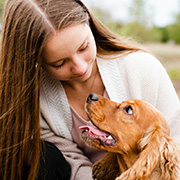 As a dog owner, you need reliable care for your furry friend while you're away enjoying a far-off adventure, beach getaway, or city break. Traditional dog boarding facilities in Killeen might not seem appealing, but they often feel like the only option. However, WoofConnect offers a better solution: free, loving dog boarding in Killeen in a comfortable, home-style environment. Your dog will stay with a caring sitter who is familiar with your pet's breed and energy level.
What does home-style dog boarding in Killeen entail?
Home-style dog boarding means your dog stays with a dog sitter in their home. Your pet is used to the cozy environment of your apartment or house, so it's only natural for them to stay in a similar setting while you're on vacation. This way, your dog doesn't have to adjust too much and can enjoy a peaceful atmosphere. Traditional dog boarding facilities typically house many dogs at once and require a lot of adjustment from your four-legged friend. With WoofConnect, your dog stays with a private individual who has their own dog of the same breed and a similar age, ensuring they understand your pet's energy.
WoofConnect connects dog owners in Killeen for dog boarding
Find a perfect match with other dog owners in your area who have pets of the same breed/crossbreed and age. These dogs speak the same "language" and have the same energy levels, ensuring they'll get along well.