WoofConnect Revolutionizes Dog Boarding in Lubbock, TX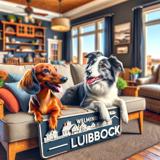 Hello to all the devoted dog lovers in Lubbock! We truly get how much you adore and care about your four-legged family members, especially when you're off on a holiday or sneaking away for a short break. The task of finding a dependable and kind person to look after your dog in Lubbock can be tough. This is even harder when you're trying to dodge the big fees that dog boarding places usually charge – here, that's around $45 to $75 each day. But don't worry, WoofConnect is shaking things up for dog boarding in Lubbock.
Building a Network of Dog Enthusiasts: Memorable Dog Boarding Adventures in Lubbock
Join a mission to discover the ultimate play friend for your dog. Meet other dog owners in Lubbock who have a pooch with the same breed/mix and age as yours. Dogs that share these things and have similar energy vibes often click immediately, making sure your dog meets its perfect match. WoofConnect is all about helping you find the most fitting buddy for your beloved pet right here in the Lubbock area.
WoofConnect: Your Top Resource for Spotting the Best Dog Sitter in Lubbock
WoofConnect's easy-to-use app is built to make it simple for you to hunt down the best dog sitter in Lubbock. Just grab the app, set up profiles for you and your furry pal, and dive into the world of sitters waiting for you. Every sitter with WoofConnect loves dogs big time and knows how to give your buddy the love and attention it needs. And the best part? They all live in Lubbock, making it super straightforward to drop off and fetch your pet.