WoofConnect Conroe: Free Home-like Dog Boarding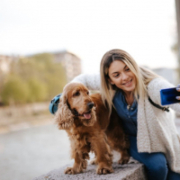 When you embark on a vacation, ensuring the happiness and well-being of your dog is a top priority. While asking friends or family to look after them would be ideal, it's not always feasible. Traditional dog boarding facilities in Conroe often leave dog owners concerned about their pets' comfort and safety. That's why WoofConnect is here to offer an solution—an unparalleled, free home-like dog boarding experience in Conroe. With dedicated and experienced dog owners your canine companion can enjoy a relaxing vacation in a familiar environment, allowing you to travel with peace of mind.
Home-like Comfort for Your Dog
Choose a personalized and cozy atmosphere for your dog by opting for a stay with a dog sitter in Conroe through WoofConnect. Our app service ensures that your dog feels at ease in a familiar setting, minimizing stress and anxiety. Unlike traditional dog boarding facilities, where the environment can be overwhelming, the pet sitters provide a calm and loving home environment. Your dog will receive individual attention and care, just like they would at home, ensuring a worry-free stay while you're away.
Connecting Dog Owners in Conroe for Reliable Dog Boarding
WoofConnect connects dog owners in Conroe with fellow pet lovers who have dogs of similar breeds or ages. Finding a perfect match means your dog will have a loving home away from home, surrounded by people who understand their needs and share their energy. This ensures a harmonious and joyful experience for your four-legged companion.