WoofConnect Amarillo: Free Homestyle Dog Boarding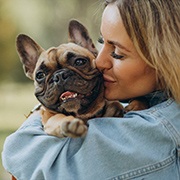 When you're on vacation, you want your dog to be well-cared-for, and sometimes friends or family just aren't available to pet-sit. Many dog owners avoid dog kennels due to the chaotic environment and risk of illnesses or injuries. WoofConnect offers a fantastic alternative, providing free dog boarding in Amarillo in a warm, welcoming setting. A knowledgeable sitter, who understands your dog's breed and energy level, takes care of your pup in their own home, guaranteeing a laid-back getaway for you and your four-legged friend.
WoofConnect connects dog owners in Amarillo for boarding
Find a match with local dog owners who have dogs of the same breed/mix and age as yours. These pups communicate well with each other and share the same energy, making for an ideal pairing!
Sitter is familiar with your dog's breed and energy level
You've probably been through this before; you're walking your dog and bump into someone with an almost identical dog of about the same age. Don't you notice how those dogs are always drawn to each other? They're a perfect match because they speak the same 'language' and often share the same energy and understanding of each other's behavior. Even older dogs are more likely to give each other space. This comprehension is a crucial part of WoofConnect's service. Help your dog find a 'soulmate' and download the WoofConnect app.