WoofConnect Grand Prairie: Free Loving Home-Based Dog Boarding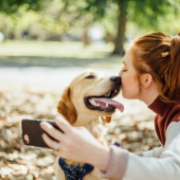 Vacation time is a joy for you, but it can be a stressful period for your beloved dog, especially when friends or family aren't available to look after them. Many dog owners dread the thought of leaving their pups at hectic, impersonal dog kennels that could expose them to illnesses or injuries. That's where WoofConnect comes in as a heartwarming alternative, providing completely free, home-based dog boarding in Grand Prairie. A compassionate and knowledgeable sitter, familiar with your dog's breed and energy level, will care for your pet in their own cozy home, making sure your fur baby enjoys a serene retreat just like you do.
WoofConnect unites dog owners in Grand Prairie for boarding
Discover a connection with fellow dog owners in your area who have pups of the same breed/mix and age as yours. These furry friends understand each other effortlessly and share the same zest for life, ensuring a perfect partnership!
Sitter is in tune with your dog's breed and energy level
Picture this: you're out for a leisurely stroll with your furry friend when you encounter another dog that looks almost identical to yours and is around the same age. Have you ever noticed how those pups are instantly drawn to each other? It's like they have their very own secret language and share the same energy, effortlessly understanding each other's behaviors. That's the magic of a perfect match! And at WoofConnect, we believe in fostering these incredible connections for your beloved dogs. It's time to help your furry friend find their kindred spirit by downloading the WoofConnect app today.
Connecting Dogs through a Shared Language
Dogs are social creatures, and just like humans, they thrive on companionship and emotional connections. At WoofConnect, we understand the importance of finding the right playmate for your dog. That's why our unique approach focuses on connecting dogs who speak the same "language." By matching dogs of similar breeds and ages, we create the perfect opportunity for them to form deep and meaningful connections. Your dog will have the chance to interact with their canine counterpart, engaging in playful activities and building lasting friendships.