WoofConnect Denton: Free Home-Style Dog Boarding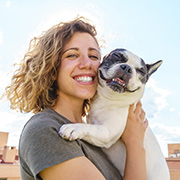 As a dog owner, you want to ensure your furry friend receives the best care possible while you're away on vacation. Traditional dog boarding facilities in Denton may not be the most appealing option, but they often seem like the only choice. That's where WoofConnect comes in – a free home-style dog boarding app that pairs your dog with a loving sitter who is familiar with your pet's breed and energy level.
What is home-style dog boarding in Denton?
Home-style dog boarding in Denton means your dog stays with a dog sitter in their home. Your dog is accustomed to the comfort and warmth of your own home, so it's beneficial for them to stay in a similar environment while you're away. This reduces the stress of adapting to new surroundings and allows your pet to enjoy a more peaceful setting. Traditional dog boarding facilities often house many dogs, requiring your pet to adjust to a different atmosphere. With WoofConnect, your dog stays with a private sitter who also has a dog of the same breed and similar age, ensuring they understand your pet's energy and needs.
Connecting Denton dog owners for home-style boarding
WoofConnect helps dog owners in Denton find the perfect match for their pets. Connect with local dog owners who have a similar breed and age of dog, ensuring your pets speak the same "language" and have compatible energy levels. This guarantees a great match every time!