WoofConnect Pearland: Free Dog Boarding in a Home-like Environment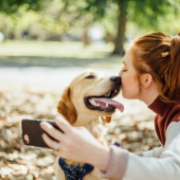 As a devoted dog owner, you understand the importance of ensuring your furry companion receives the best possible care while you're away on vacation or a weekend trip. Finding a reliable and loving dog sitter in Pearland (TX) can be challenging, especially if you're not eager to pay for an expensive dog boarding facility. WoofConnect comes to your aid, offering the ultimate solution for dog owners in Pearland and its surrounding areas.
Your dog deserves a warm and caring environment when you're away. WoofConnect provides just that – a loving home where your furried friend will be cared for by a sitter who genuinely understands their needs. With WoofConnect, you can embark on your vacation worry-free, knowing that your dog is in the safe and loving hands of a fellow dog owner who shares your passion for dogs.
Bringing together Pearland's dog owners for dog boarding
Connect with like-minded dog owners in Pearland who have a canine companion of the same breed/mix and age as yours. These dogs naturally understand each other and exhibit similar energy levels, guaranteeing a harmonious connection. WoofConnect is committed to helping you discover the ideal match for your furry friend in the Pearland area.