WoofConnect Irving: Free Home-Based Dog Boarding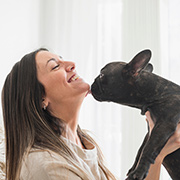 While on holiday, it's important that your dog is looked after well. You might want to rely on pals or relatives to watch over your pet, but it's not always an option. Kennels can be worrying because of the loudness, sickness risks, or possible injuries. WoofConnect is here to help by offering free dog boarding in Irving where your dog stays with an experienced sitter in a home environment. This way, both you and your pet can chill out during vacation.
WoofConnect pairs up local Irving dog owners for boarding
Search for other local owners who have dogs of the same breed/mix and age. These pets get along because they 'talk' the same way and vibe together. They're always great together!
The sitter knows your dog's type and vibes
We've all been there; you're out with your dog and run into another dog that looks just like yours. Noticed how those dogs click right away? That's because they understand each other perfectly – they have similar energies and behaviors. Even with older pooches, they tend to leave each other be. This detail is key to what WoofConnect does. Look for the perfect buddy for your dog.