The Story of WoofConnect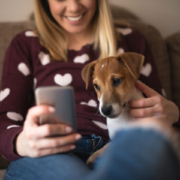 Like many ideas and successful concepts, WoofConnect was born out of finding a solution to an everyday problem. This is also how our collaboration with the Le Woef Foundation came about. This foundation has been rescuing dogs from the dire conditions in Romania for many years. In order to continue this beautiful work, Le Woef Foundation searches for adoptive families in the Netherlands where the rescued dogs can live a long and happy life. From these families, there was often a request for a reliable vacation address for the dogs.
One day, Kelly, one of Le Woef Foundation adopters, met Tom during a walk with her dog. As fate would have it, Tom had also adopted a dog from the Le Woef Foundation and his dog was exactly 9 months old, just like Kelly's dog. The dogs looked exactly alike and after a few seconds of sniffing, they happily played together. They were both the same type of dog, medium-sized, athletic built, and the same age, and therefore the same energy.
Kelly and Tom got to talking and quickly clicked. Both had chosen a similar dog from the same foundation, which created a bond between them. Kelly mentioned that she had not yet gone on vacation because she had not found a good place for her dog to stay. When she told Tom where she lived, he said he lived in the same neighborhood and offered to take care of Kelly's dog if needed. He thought it would be fun not only for himself but also for his dog, who would have a playmate and they could both get their energy out.
For Kelly, this was a gift from heaven, and after they agreed on a trial night, which went without any problems, Kelly let Tom know that his dog could always stay with her whenever he went on vacation.
Through our contacts with the Le Woef Foundation, we heard about this incident. We realized that this connection could be a solution for many people with the same problem: finding loving in-home dog care. This led to the idea of ​​setting up a platform for all these dog owners to find their perfect match, in their neighborhood.
Our Mission
Before launching WoofConnect in the market, we delved into the issue of finding loving in-home dog care. Due to the "Corona years," the number of dog owners in the Netherlands and other countries has increased enormously. This has led to a strong demand for care. While in the past people could often rely on family and friends, today there is more search for alternatives in the market. Few people want to bring their dog to an impersonal dog kennel. While kennels try their best to give loving attention to the dogs, these places are often overcrowded, leading to incidents.
Our goal is to give every dog owner the opportunity to find loving in-home care for their dog. A place where the dog is an important part of daily life and gets a playmate. Everyone who uses WoofConnect is looking for care, but also offers themselves for care of the other party's dog.
This creates a Win-Win situation for the whole family!