Your Furry Friend is in Good Hands with WoofConnect Dog Boarding in Houston, TX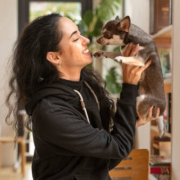 If you're a dog parent in Houston, TX, of course you want the best for your tail-wagger when you're away from home. Sometimes boarding places can stress out your pup, and hiring someone to come over to your place can really hit your wallet per dog. That's when services like WoofConnect step in to save the day. This cool platform helps you connect with other dog owners right there in Houston, offering free in-house dog boarding in your own 'hood.
Have Fun Dog Sitting with Other Dog Lovers in Houston
With WoofConnect, meeting other dog enthusiasts from Houston is a breeze.
How dog lovers in Houston help each other
In Houston, other dog lovers will gladly invite your pooch over and shower them with affection, and guess what? It won't cost you a dime because you're swapping dog-sitting favors. This is awesome for keeping your dog chipper and cozy somewhere that feels just like home while you're gone.
Finding the Right Dog Sitter in Houston
Looking for a sitter? WoofConnect's got you covered. The app finds a perfect match for your pup based on their quirks and preferences. You'll get matched with Houston's own dog owners who have pups of similar age, so they're bound to hit it off. Plus, sitters are total dog enthusiasts, so your tail-wagger is in good hands.