WoofConnect Round Rock: Your Pooch's Free Home-Away-From-Home Boarding Experience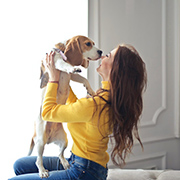 Hey, dog lovers in Round Rock, Texas! We know how much you adore your furry friends and want them to be in the best possible hands when you're away. But finding a loving and trustworthy dog sitter can be a challenge, especially when pricey dog kennels aren't your thing. That's where WoofConnect comes in! We've got you covered, offering the perfect solution for dog owners in Round Rock and the surrounding areas.
Connecting Round Rock's Dog Owners for Fantastic Dog Boarding
Imagine your dog hanging out with a buddy of the same breed/mix and age. Sounds pawesome, right? Dogs that share the same energy levels and backgrounds can really hit it off. WoofConnect is all about helping you find that ideal playmate for your furry friend in the Round Rock community.