Free Loving Home-Based Dog Boarding in Brownsville with WoofConnect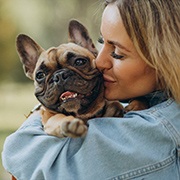 As a proud dog owner, you want to make sure your loyal friend is in good hands when you go on vacation or take a weekend getaway. Finding great and affordable care can be a challenge, but worry no more! WoofConnect offers the perfect solution for dog owners in Brownsville and the surrounding areas who are looking for loving home-based dog boarding. No more impersonal dog kennels – enjoy home-like care instead.
The Perfect Sitter for Your Dog
WoofConnect makes it easy to find the perfect sitter who will lovingly care for your dog. Plus, the sitter lives nearby in the Brownsville area and offers their care for free. With our app, you can be sure your dog is in good hands as our sitters have experience with different dog breeds and are well-versed in your dog's specific energy and characteristics. We'll always find the perfect match!
WoofConnect Connects Dog Owners in Brownsville for Boarding
Find a match with owners in your area who have a dog of the same breed/mix and age. These dogs speak the same language and share the same energy, ensuring a great match!