WoofConnect: A New Take on Dog Boarding in Plano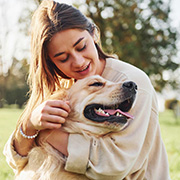 Hello, loving dog parents in Plano! We know how much you love your four-legged family members, especially when you have to leave them behind for vacations or quick getaways. Looking for a kindhearted and trustworthy dog sitter in Plano without breaking the bank can be tough. Say goodbye to stress — WoofConnect is here to transform dog boarding in Plano.
Building a Dog Owners Community for Better Boarding in Plano
Start the hunt for your dog's ideal buddy. Connect with other dog parents in Plano whose pets share the breed, mix, or age as yours. When dogs are alike, they'll likely get along better, promising a great fit. WoofConnect is all about helping you find just the right match for a memorable boarding experience.
WoofConnect: The Easy Way to Find Your Ideal Dog Sitter in Plano
WoofConnect's easy-to-use app is designed to make finding a great dog sitter in Plano simple. Just get the app, set up profiles for you and your pup, and start looking through our list of sitters. These pros at WoofConnect are all about dogs, skilled in giving your furry friend the care and affection it needs. Plus, they're all based in Plano to make dropping off and picking up your pet super convenient.
Enjoy Free Dog Boarding with True Dog Enthusiasts
What sets WoofConnect apart is that it offers dog boarding for free. Forget those pricey kennels charging $30 to $55 daily. With WoofConnect, your dog gets to stay in a cozy, home-like place, and your wallet stays happy. Our sitters are real dog people who know how to give your pet the individual attention and love it wants.