WoofConnect Garland: Free Cozy Dog Boarding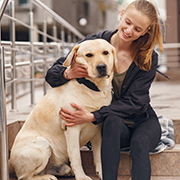 When off on a break, you want your dog to get top-notch care, but it's not always possible to get friends or relatives to watch them. Many people avoid kennels because they can be loud, crowded, and risky for dogs' health. WoofConnect offers a superb alternative—cost-free dog boarding in Garland where an experienced sitter takes care of your pooch at their own place, creating a relaxed holiday atmosphere for both you and your dog.
WoofConnect Connects Dog Owners in Garland for Boarding
Find local dog owners with pups similar in breed/mix and age as yours. These dogs get each other's play-style and energy, making for an ideal pairing!
Sitter Understands Your Dog's Breed and Activity Level
You've prYou've probably had this happen: you're out walking your dog and suddenly you meet someone else walking a dog that looks just like yours and is the same age. Have you seen how those dogs seem to hit it off right away? They get along so well because they understand each other. They match each other's vibes and can read what the other is up to. Even with older dogs, they tend to give each other space. This kind of bond is exactly what WoofConnect helps you find for your precious pup. So go ahead, help your dog find their 'bestie' and download the WoofConnect app.