WoofConnect The Woodlands: A Cozy Home-Away-From-Home for Your Dog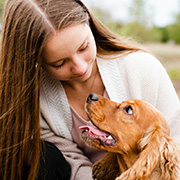 As a loving dog owner, you want the best for your four-legged friend, especially when you need to be away on vacation or business. The search for a reliable and caring dog sitter in The Woodlands, Texas, can be challenging, particularly if you prefer a more personal touch compared to traditional, expensive dog kennels. That's where WoofConnect comes in, offering a heartwarming solution for dog owners in The Woodlands and its surrounding areas.
Creating a Canine Connection in The Woodlands
We understand the importance of finding a suitable match for your furry friend while you're away. That's why WoofConnect helps you connect with fellow dog owners in The Woodlands who have canine pals of the same breed/mix and age as your own. Dogs with similar backgrounds and energy levels naturally bond, ensuring a compatible and enjoyable stay.
Unleash the Love with the Perfect Dog Sitter
WoofConnect is a user-friendly app designed to help you discover the ideal dog sitter for your beloved pet in The Woodlands area. Just download the app, create a profile for you and your dog, and start exploring the available sitters. The sitters are experienced and compassionate dog lovers who know how to make your furry companion feel right at home.