WoofConnect McKinney: Free Home-Based Dog Boarding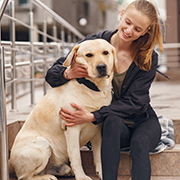 Vacation time should be a blast for you, but it can be a tough time for your cherished dog, particularly when friends or family can't take care of them. Many dog owners hate the idea of leaving their furry pals at chaotic, impersonal dog kennels that might put them at risk of getting sick or injured. That's where WoofConnect jumps in as a fantastic alternative, offering completely free, home-based dog care in McKinney. A kind-hearted and experienced sitter, who knows your dog's breed and energy level, will look after your pet in their own comfy home, ensuring your four-legged friend has a relaxing getaway just like you.
WoofConnect Connects Dog Owners in McKinney for Boarding
Find connections with fellow dog owners in your area who have fur babies of the same breed/mix and age as yours. These doggy buddies just get each other and have the same excitement for life, guaranteeing a flawless match!
Sitter Vibes with Your Dog's Breed and Energy Level
Picture this: you're walking with your dog and spot someone with an almost identical dog around the same age. Haven't you seen how those pups are drawn to each other? They're a perfect match because they "speak" the same language and often share the same energy, making it simple for them to understand each other's behavior. This emotional connection is a key part of WoofConnect's philosophy. Help your dog find a soulmate and download the WoofConnect app.