Discover WoofConnect: The Ultimate Home-Based Dog Boarding Solution in League City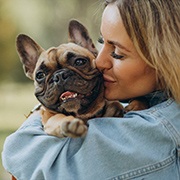 Are you planning a vacation and worried about leaving your furry friend behind? With WoofConnect you can enjoy your well-deserved break while your dog experiences a comfortable, home-based stay with a loving and experienced dog owner. Say goodbye to the stress of traditional dog boarding in League City and explore the fantastic benefits of WoofConnect.
The Warmth of a Home Environment in League City
Choose WoofConnect League City for personalized attention and a cozy home atmosphere for your dog. The passionate, experienced sitters welcome your pet into their homes, providing a familiar and secure environment where your dog can relax and feel at ease. Traditional dog boarding facilities can be stressful for your pet, especially for those with anxiety. By opting for a home-based dog sitter, you ensure your pet receives the time and attention they deserve, giving you peace of mind during your vacation.
Connecting Dog Owners in League City
WoofConnect League City brings dog owners together, allowing you to find the perfect match for your furried friend. Discover nearby dog owners with similar breeds and ages, ensuring your dog has compatible playmates and the perfect energy balance during their stay.