WoofConnect Waco: Free Home-Based Dog Boarding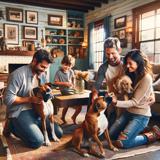 As a devoted dog parent, it's important to you that your furry friend is happy and well-cared for when you're on holiday. The usual places in Waco where dogs can stay might not look too appealing, but they often feel like the only choice there is. That's where WoofConnect steps in – we provide free dog boarding in Waco that finds a cozy home for your dog to stay in with someone who loves pets and gets what your dog needs.
What is home-based dog boarding?
When you choose home-based dog boarding in Waco, your pup gets to hang out at a dog sitter's home, which feels more like their own home. They already enjoy the warm and familiar space of your place, so being somewhere like it while you're away is better for them. It means less stress because they don't have to get used to somewhere brand new, and they can chill in peace. Most places where lots of dogs are kept can be tough for your pooch to get used to. But with WoofConnect, your buddy will be with just one sitter who has their own dog that's just like yours, so they really understand what your furry family member likes and how they behave.
Building connections between Waco dog owners for home-based boarding
WoofConnect is all about helping Waco's dog lovers find the perfect buddy for their dogs to stay with. You can meet other locals who love dogs and have one that's the same type and age as yours, so it's like they're talking the same language and have the right amount of pep. This makes sure your pal always has the best possible match!