WoofConnect Abilene: Experience Free Dog Boarding in a Cozy, Home-like Setting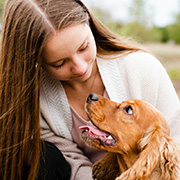 As a loving dog owner, you recognize the significance of providing your furry family member with the highest level of care when you're away on vacation or a weekend getaway. Searching for a trustworthy and affectionate dog sitter in Abilene, Texas, can be daunting, particularly when you'd rather avoid the expense of traditional dog kennels. WoofConnect is here to save the day, offering the perfect solution for dog owners in Abilene and its surrounding communities.
WoofConnect understands that your dog deserves a warm and nurturing environment while you're away. By connecting you with a compassionate sitter who truly comprehends your dog's needs, your four-legged friend is in the safe and loving hands of a fellow dog lover who shares your passion.
Connecting Abilene's Dog Owners for Dog Boarding
WoofConnect allows you to connect with fellow dog owners in Abilene who have canine companions of the same breed/mix and age as your own. Dogs with similar backgrounds and energy levels naturally bond, ensuring a compatible match. WoofConnect is dedicated to helping you find the perfect companion for your precious pet in the Abilene area.