WoofConnect Laredo: Comfy, Free Dog Boarding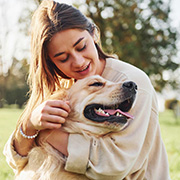 Heading out for a vacation? You should chill and so should your dog. Choose comfort with WoofConnect's home-based dog boarding instead of a busy dog kennel in Laredo. At WoofConnect, find a dog sitter who'll treat your dog like their own, giving all the care and love they need. You can leave for your trip without a doubt that your best buddy's having a great time too.
A Homey Spot for Your Pooch
Pick WoofConnect in Laredo, and your pooch gets to hang out in a warm, house setting with someone who knows the ropes of pet care. They'll dodge the noisy life of a kennel and get all the attention just for them. Talk over your pet's schedule with the sitter so they stick to the usual walks and meals, helping your dog chill out and keep up with their normal day-to-day even while you're gone.
Matching Sitters to Your Dog's Needs
Ever bumped into a pup that seems like a carbon copy of yours and noticed how well they hit it off? They probably "get" each other and vibe at the same level of pep. Recognizing these matches is key at WoofConnect. Find the right match—a "soulmate" for your canine—and grab the WoofConnect app while you're at it.