WoofConnect Allen: Free Dog Boarding in a Homely Environment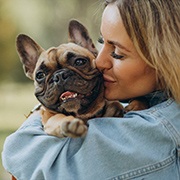 Calling all dog owners in Allen! Are you yearning for absolute peace of mind when it comes to your precious dogs care while you embark on a much-needed vacation? We understand that relying on friends or family may not always be feasible. And let's face it, traditional dog boarding facilities in Allen aren't exactly the ideal choice with their hustle, bustle, and potential risks of illnesses or injuries. But fret not, because WoofConnect has a solution for you—a heartwarming, free-of-charge alternative offering a cozy, home-like environment for dog boarding in Allen.
Experience the Warmth of Home with In-Home Dog Boarding
Picture this: your furry friend basking in the warmth and comfort of a loving home while you're away, just like they would in your own abode. With WoofConnect, you can find an experienced dog sitter who will pamper your four-legged friend in their very own sanctuary. Say goodbye to the anxieties of overcrowded facilities and embrace the serene thought that your furry family member will relish a vacation of their own.
Personalized Care and Serenity for Your Furry Friend
At WoofConnect, we deeply comprehend the significance of providing personalized attention and a homely atmosphere for your canine companion. By opting for in-home dog boarding with one of our exceptional dog sitters in Allen, your dog can revel in a familiar environment, eliminating the need for stressful adaptations. Unlike the chaotic nature of traditional kennels, which can be particularly distressing for anxious dogs, a dedicated dog sitter offers an abundance of time and affection, ensuring your dog's contentment. As a dog owner, that's undoubtedly a comforting thought, granting you the freedom to enjoy your well-deserved getaway while your furry friend experiences a carefree and delightful stay.