WoofConnect Vallejo: Free Home-Based Dog Boarding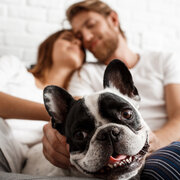 The excitement of planning a vacation or business trip is often tinged with concern about your beloved canine companion's care. Traditional dog boarding facilities, while offering a solution, often fall short in providing a warm and affectionate environment that your dog is accustomed to at home. Not to mention, the considerable expense—dog kennels in Vallejo can cost anywhere from $45 to $75 per day. This is where WoofConnect steps in, pioneering a paradigm shift in dog boarding within the vibrant community of Vallejo, California.
WoofConnect: Connecting Compassionate Dog Owners in Vallejo
Imagine a community where dog owners band together to provide loving care for each other's dogs in a comfortable, home-like setting. WoofConnect brings this vision to life by creating a vibrant network of dog enthusiasts who understand the unique needs of different dog breeds, age groups, and energy levels.
A Home Away From Home: WoofConnect's Unique Approach to Dog Boarding
With WoofConnect, dog boarding transcends the confines of traditional kennels. Your furry friend is welcomed into the warm embrace of a fellow dog lover's home—a familiar, stress-free environment that mirrors the comforts of your own house. This fresh take on dog boarding ensures a joyful, love-filled experience for your pet, even when you are away.
Fostering Friendships: Perfect Matches Based on Breed Compatibility
At WoofConnect, we understand that dogs of the same breed share unique bonds. They communicate more effectively and exhibit similar energy levels, leading to a harmonious cohabitation. Leveraging this insight, we match your pet with a suitable friend, creating a conducive environment for your dog to enjoy their time away from you.