The Dawn of a New Dog Boarding Experience in Carlsbad with WoofConnect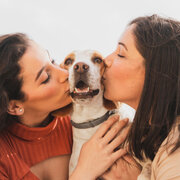 As the azure waves of Carlsbad's beaches beckon you for a much-awaited vacation, you may find yourself ensnared by a common worry: Where will your four-legged family member stay while you're away? Traditional kennels in Carlsbad, with prices ranging from $50 to $75 per day, often strike a hard blow to the wallet. But WoofConnect dog boarding Carlsbad is here to ease your concerns, offering an innovative solution that prioritizes love and comfort over confinement.
Unleashing Love: A Fresh Approach to Dog Boarding in Carlsbad
In the sparkling city of Carlsbad, WoofConnect is transforming the face of dog boarding. We champion the idea that dogs deserve more than the austere confines of a kennel. We believe in providing them with a caring environment, brimming with love and warmth, mimicking the feeling of their own homes. With WoofConnect, your furry friend will be welcomed into a fellow dog lover's home, providing a nurturing setting where they feel cherished and safe.
Creating Connections: The Heart of the WoofConnect Community
WoofConnect isn't just about dog boarding. It's about fostering a sense of community among the dog owners of Carlsbad. By bringing together dog owners who share a deep-seated love for their furry family members, WoofConnect cultivates a network of trust and mutual support. Here, dog owners can understand and appreciate the unique needs of different breeds, ages, and personalities, providing care that truly resonates with each individual dog.
Perfect Partners: WoofConnect's Unique Matching Process
Not all playdates are created equal. Dogs often form stronger bonds with others of the same breed, age, and energy level. Recognizing this, WoofConnect strives to match your pet with a perfect partner, ensuring their stay is filled with joyful interactions and fun-filled playtime. This consideration towards your pet's personality sets WoofConnect apart, promising an engaging and rewarding experience for your pet while you're away.