Free Dog Boarding in Anaheim: WoofConnect, A Second Family for Your Dog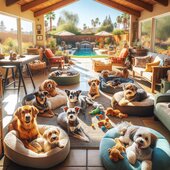 In the sunshine city of Anaheim, home to the famous Disneyland Park, even dogs have a blast. Here, our pets' wellbeing is a big deal. If you live in Anaheim and want your dog well-loved when you're not around, think again about traditional kennels. They often miss the mark on giving that special touch your pooch needs. Enter WoofConnect – a game-changing dog boarding in Anaheim. Our goal? To provide top-notch care that feels like home by matching you with other dog lovers who'll treat your furry friend like their own. Say hello to the end of cold kennels and hello to a warm, loving experience.
Linking Dog Owners in Anaheim: Tailored Boarding Experiences
WoofConnect is all about building community. We know that dogs do best with buddies that are just like them. That's why we help Anaheim dog owners find perfect matches based on breed, age, and energy levels. These tailored stays make sure your dog is comfy and happy with their temporary guardian. Our community is built on trust, empathy, and a shared love for dogs. Together, we give our dogs the top-tier attention they deserve.
More Than Just Boarding: A Home Away From Home in Anaheim
By choosing WoofConnect, you're going for more than common boarding. Forget the lonely kennels of yesterday. The people we team up with are eager to get to know your dog and its unique quirks. We give our dogs lots of love and spend time with them, making sure they have and feel loved while they're with us. Every day, your dog will get to go on walks, play a lot, and get plenty of hugs. Our goal is to make their stay feel like a second home, where they are happy and well taken care of the whole time they're with their new dog buddy.