Unleashing Temecula's Canine Revolution with WoofConnect: A Paradigm Shift in Dog Boarding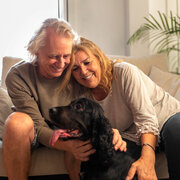 Every dog lover knows the gnawing anxiety that comes with leaving their four-legged friend behind to attend to other duties. The charming town of Temecula, California, known for its scenic wine country and peaceful landscapes, presents a challenge that's all too common: finding that perfect, loving care for your dog when you can't be there. Traditional dog boarding services, with their sterile environments and steep prices—often around $40 to $70 per day—don't exactly inspire a sense of ease. But hold onto your leashes, folks, because a change is in the air. WoofConnect, a ground-breaking platform, is shaking up dog boarding in Temecula with a unique, cost-free, home-away-from-home solution that both you and your pooch will adore.
A Community Fueled by Canine Love: The WoofConnect Strategy
At the core of WoofConnect's mission is the weaving of a close-knit community of responsible, dog-loving folks. Imagine a circle of mutual support, where each member, united by their love for dogs, opens their homes to other members' furry friends. The focus isn't just on providing a place to stay, but a sanctuary of familiarity, warmth, and affection for every visiting pet—at absolutely no cost. WoofConnect extends beyond mere cost-saving to build a community where every dog receives the care and adoration they'd find at home.
Feel Right at Home: WoofConnect's Promise
WoofConnect stands firm on the belief that every dog should feel cozy and content, even when their owners are away. Our community members are dog owners themselves, who understand deeply the significance of a pet's home environment. They go above and beyond to replicate these conditions, creating a care atmosphere for guest pets that feels just like home. The result? A stay at WoofConnect marked by comfort, friendship, and greatly reduced stress for your precious pet.