WoofConnect: Tailored Free Dog Boarding in Elk Grove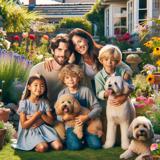 For dog owners living in the bustling city of Elk Grove, finding top-notch care for your furry friend while you're away can sometimes prove daunting. Traditional kennels might not always offer the personalized touch and love that your pet deserves. This is where WoofConnect steps in, transforming the dog boarding landscape in Elk Grove. Our focus is on delivering exceptional care in a homey setting, aligning your pet with dedicated individuals who will treat your dog as one of their own.
WoofConnect: Fostering Connections between Dog Owners in Elk Grove
At WoofConnect Elk Grove, we appreciate the unique bond between dogs and their human companions. Understanding that dogs flourish best in the company of similar-minded pets, we connect dog owners in Elk Grove with fellow pet enthusiasts who own dogs of similar breeds, ages, and energy levels. These bespoke boarding experiences ensure your pet feels right at home with their new friends. Our platform is rooted in trust, compassion, and a mutual adoration for our furry friends, all aimed at providing the best possible care for your cherished pet.
Affordable Dog Boarding in Elk Grove: Premium Care without the Premium Price Tag
In Elk Grove, traditional kennels can often be expensive, with daily rates typically falling between $40 to $80. However, WoofConnect is revolutionizing dog boarding by providing affordability without compromising the quality of care. Our community-based model connects you with fellow dog owners to share boarding duties during vacations, resulting in substantial savings on pet care expenses. This approach offers a cost-effective solution, providing peace of mind knowing your dog is in caring hands.
Understanding Your Dog's Unique Breed and Energy: A Perfect Match
Each dog breed has its unique traits and energy levels. WoofConnect Elk Grove acknowledges this and gives priority to pairing dogs of the same breed, ensuring compatibility and harmony. Our caregivers are familiar with your dog's breed and energy, guaranteeing a smooth transition and a positive experience for your pet. Your dog will be in the company of a caregiver who genuinely comprehends their needs, offering a nurturing and supportive environment.