A New Perspective on Dog Boarding in Los Angeles: Introducing WoofConnect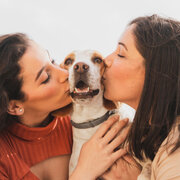 Picture yourself planning an eagerly awaited vacation or a chill weekend break. As your excitement builds, you're suddenly hit with worry – what to do with your dog? The idea of leaving them in a cold, pricey kennel dampens your spirits. You wish for a place where your pooch can feel secure and loved, as if they were at home.'s when WoofConnect comes into play, presenting top-notch dog boarding service in Los Angeles. WoofConnect is here to solve your dog care problems with its affectionate and professional services.
WoofConnect: Making Connections between Dog Aficionados in Los Angeles
Imagine bumping into another dog owner who shares your enthusiasm for pets, understands the unique needs of your dog's breed, age, and temperament, and will care for your dog just like you would. This is what WoofConnect creates, right in the bustling centre of Los Angeles.
Your Dog's Home Away from Home in Los Angeles
No more harsh kennels or unwelcoming cages. At WoofConnect in Los Angeles, your beloved furry friend will be treated to a nurturing, home-like setting filled with love and attention. We prioritize your pet's well-being and joy.