WoofConnect in Fullerton, CA: A Beacon of Free, Comfort-Infused Dog Boarding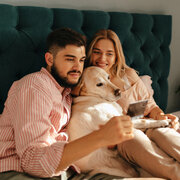 When planning a vacation or business trip from Fullerton, the task of arranging suitable care for your cherished pet can often seem daunting. The typical dog boarding services in Fullerton, California, are notorious for their lofty prices, often ranging between $50 and $75 per day, culminating in a hefty weekly bill of $350 to $525. WoofConnect, however, is here to revolutionize the landscape of dog boarding in Fullerton with a unique, cost-friendly solution.
Fostering a Dynamic Ecosystem of Dog Owners in Fullerton
WoofConnect is founded on the principle of creating a robust network of responsible and caring dog owners within Fullerton. Our model is based on mutual pet care in a home-like setting, entirely free of charge. Our system takes into account each dog's breed, age, and energy level to curate harmonious matches, paving the way for a stress-free, fun-filled experience for your beloved pet.
Transforming Dog Boarding: A Homely Sanctuary in Fullerton
At WoofConnect, we value the emotional bond between a dog and its owner. Our aim is to replicate this warmth and affection even when you are away. Your dog will not be placed in a constrained kennel but instead, will be welcomed into the comfortable and familiar setting of a fellow dog owner's home. This alternative approach promises a comforting, anxiety-free boarding experience for your pet.