Embark on a Paw-some Journey with WoofConnect: Free Dog Boarding in Santa Rosa, CA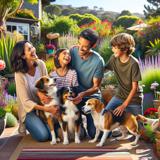 If you live in the beautiful city of Santa Rosa and own a dog, you might worry about finding someone to watch over your playful pal when you're away. Many kennels don't give your pooch the love and cuddles they need. That's why WoofConnect dog boarding is here! We provide an amazing place for your dog to stay in Santa Rosa. With us, your furry buddy gets top-notch treatment in a cozy, homey setting. The dog-loving sitters will look after your pet as if it were their own.
Connecting Dog Lovers in Santa Rosa Through WoofConnect
WoofConnect loves the special connection between dogs and their owners. We know pups are happiest hanging out with other dogs that are just like them. That's why we match dog owners in Santa Rosa with other dog lovers who have pets that are similar in breed, age, and how much they love to play. This way, your four-legged friend can feel completely at home with their new buddies. Our service is built on being trustworthy, kind-hearted, and sharing a passion for our four-legged pals to make sure your dog is well looked after.
Economical Dog Care in Santa Rosa: First-Class Service That Won't Break the Bank
Dog boarding in Santa Rosa usually costs a pretty penny, often charging $35 to $75 per day. But WoofConnect is changing the game by being wallet-friendly without cutting corners on the quality of care. Our community-centered way lets you team up with other dog owners to take turns looking after each other's pets during vacations. You end up saving a bunch and you can relax knowing that your dog is with someone who truly cares.
Knowing Your Doggie's Breed and Pep: Finding the Ideal Buddy
At WoofConnect, we're really good at pairing dogs with other dogs of their breed. This means they get along super well! The people taking care of your dog know all about its breed and how much exercise it needs. So when your dog stays with them, it's easy and fun, not stressful at all. Your dog gets to hang out with someone who really gets them, which is awesome for your furry friend.