Tail-Wagging Boarding Experiences with WoofConnect: Your Dog's Second Home in Huntington Beach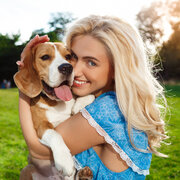 For dog owners in sunny Huntington Beach, ensuring top-notch care for your furry companion when you're not around can be a tough nut to crack. The conventional dog kennels may miss that personal affection and may not deliver the level of love and care your four-legged family member merits. Enter WoofConnect: The game changer in Huntington Beach dog boarding experiences. We're committed to providing top-tier care in a domestic setting, matching your pup with enthusiastic individuals who'll cherish your pet as if it's their own.
Bridging Dog Owners in Huntington Beach through WoofConnect
Here at WoofConnect, we salute the bond between dogs and their human companions. With an understanding that dogs thrive best in the company of like-minded buddies, we act as a bridge, connecting dog owners in Huntington Beach with fellow pet enthusiasts with matching breeds, ages, and energy levels. These personalized boarding experiences guarantee your pet will feel right at home with their newfound buddies. Our platform is constructed on a foundation of trust, empathy, and shared love for our fluffy friends, with a focus on delivering the finest care for your pooch.
Affordable Dog Boarding in Huntington Beach: Uncompromising Quality without the Hefty Price Tag
In Huntington Beach, traditional kennels can be a bit hard on the pocket, with daily charges typically ranging from $30 to $60. But WoofConnect is here to revolutionize the dog boarding concept by making it affordable without sacrificing the standard of care. Our community-driven model helps you connect with fellow dog owners to share boarding responsibilities during holidays, leading to substantial savings on pet care expenses. This model offers both an economical solution and peace of mind, as you can rest assured your dog is in loving hands.