In-Home Dog Boarding in Irvine: A Free, Caring Alternative to Traditional Kennels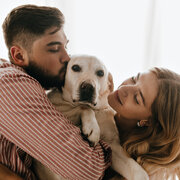 Irvine is a lively city found in the middle of Orange County, California. It's well-known for its pretty parks, high-quality schools, and booming businesses. The city aims to be welcoming to everybody, including pets.
If you're a dedicated dog parent in Irvine, looking for the perfect place for your pup when you're not around can be tricky. Old-school dog hotels may not give the cozy touch and special care your furry friend needs. Enter WoofConnect – a new, loving way to look after dogs in Irvine. We set out to offer first-class service in a comfortable home setting by hooking you up with kind dog lovers who will welcome your pet into their family. Say goodbye to cold, unfeeling dog hotels and hello to a caring space that'll make your dog happy and excited.
Connecting Dog Owners in Irvine: Tailor-Made Sitting Services
WoofConnect gets how crucial it is to make connections. We know dogs do best when they hang out with others like them. That's why we match dog parents in Irvine with other dog fans who have similar kinds of dogs, about the same age and energy level. These tailor-made sitting services mean your dog will feel at ease and happy with their new buddy.
No-Cost Dog Boarding: Top-Level Care Without Breaking the Bank
Great care shouldn't force you to empty your wallet. Regular dog hotels in Irvine might charge a lot, usually $30 to $60 per day. But at WoofConnect, we've got a budget-friendly option without cutting corners on how well we look after your dog. By bringing together dog owners in the community, we help make it possible for free boarding. Helping each other take care of our dogs when we're on holiday is a smart way to save money on kennel fees. You can feel good knowing that someone who loves dogs will be looking after yours.