Unleashing WoofConnect: A New Dawn for Dog Boarding in Fresno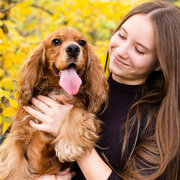 Familiar with that mixed bag of joy for your upcoming trip but stressed about your four-legged pal staying behind? Typical kennels in Fresno can rack up a bill of $40 to $70 daily. That adds up to an eye-watering $280 to $490 over a week! Talk about expensive. Plus, they usually lack that cozy, homey vibe. Your canine buddy deserves a place that feels just like home, not some cold corner. And this is where WoofConnect steps in, totally transforming the dog boarding scene in Fresno!
WoofConnect: Creating Pawsome Connections in Fresno
Think of WoofConnect as a fun neighborhood hangout that's just for dogs. This easy-to-use platform connects dog owners in Fresno and builds a community where you can quickly find someone to take care of your dog just like you would. You'll meet people who get your dog's breed, age, and even those unique habits you love so much.
Fur-tastic Friendships: Same Breed, Same Age Equals Perfect Match
There's something special about dogs of the same breed and similar age playing together. They just click, understanding each other's playfulness and moods, creating a really nice vibe for your dog to enjoy while you're away. WoofConnect uses this chemistry to make sure your dog has a great time.