Free Dog Boarding in Stockton: WoofConnect, A Loving Home for Your Pup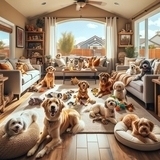 In the sunny Central Valley of California, you'll find the city of Stockton, a place rich with history and bursting with different cultures. Not only is it famous for its art and the big Asparagus Festival each year, but this city also loves its dogs. If you're a dog parent in Stockton, making sure your furry friend is well taken care of when you're not around is super important. Regular kennels might not always give your dog the warm, special treatment they need. That's where WoofConnect comes in, shaking things up in dog boarding in Stockton. We're all about giving top-notch care in a cozy home environment. We'll match you with dog lovers who will treat your buddy like their own. Forget those old-school kennels—let's move to a place filled with personal touch and all the love your dog can handle.
Connecting Dog Owners in Stockton: Customized Boarding Experiences
WoofConnect is big on community spirit. We understand that dogs do their best when hanging out with pals just like them. That's why we're all about helping dog owners in Stockton find the perfect match for their pets among local dog aficionados. We consider things like breed, age, and how lively your pet is to create tailor-made stays that feel just like home for your pooch. Our community is built on trust, caring, and a shared adoration for our furry pals. Together, we're here to give our beloved dogs the amazing care they're worthy of.
A Home Away From Home: A Boarding Experience Like No Other
Choosing WoofConnect means picking a boarding option that's truly different. No more cold kennels or lonely nights for your pup. The dog lovers in our community are super keen on understanding what makes your dog tick—their breed specifics and their levels of activity—to give them the one-on-one care they crave. With daily walks and loads of playtime,