WoofConnect: Creating a Free and Homely Dog Boarding Experience in Simi Valley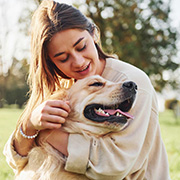 For dog owners planning an out-of-town trip, the safety and comfort of their furry friend is of the utmost importance. In such times, the services of traditional dog boarding kennels in Simi Valley, California, might come to mind. However, these facilities often lack the familiar, warm environment that your pet is accustomed to at home. This is where WoofConnect steps in, offering a unique, loving, and home-like dog boarding experience in Simi Valley.
A Supportive Network of Dog Owners in Simi Valley
WoofConnect isn't just a service – it's a community built on mutual love for dogs. Our platform brings together responsible dog owners within Simi Valley, ready to offer their homes as safe havens for your furry friend during your absence. Through this reciprocal pet care system, each dog in our network enjoys an experience akin to a homestay, complete with the warmth and love they're used to.
Putting Love First, Price Second
At WoofConnect, we believe that a loving environment should always take precedence. We understand the value of the deep emotional bond between you and your dog, and our aim is to replicate that warmth during your pet's stay. Instead of the impersonal confines of a conventional kennel, your pet is welcomed into a fellow dog owner's home. Here, they are not just another pet to look after, but a new member of the family.
While this level of care might make you think of steep costs, WoofConnect flips the script on traditional dog boarding services. Traditional kennels in Simi Valley can cost anywhere between $50 and $75 per day, translating to an expenditure of $350 to $525 over a week. WoofConnect, on the other hand, presents a unique and cost-free alternative. By fostering a culture of reciprocity, we enable dog owners to offer and receive top-tier care for their pets without the monetary strain.