Find a Free Dog Boarding Spot in Long Beach: Welcome to WoofConnect, Your Dog's Home away from Home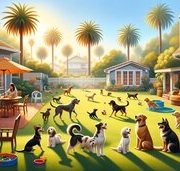 Living in Long Beach means balancing the demands of pet ownership with finding great care for your dog when you're away. Many kennels and pet hotels can't offer that special one-on-one care our dogs need. That's where WoofConnect steps in. It's an innovative app service that's changing how we think about dog boarding in Long Beach. Our promise is simple: top-tier, cage-free care in a cozy setting. We match you with caregivers who treat your dog like part of their own clan. Say goodbye to the cold feel of old-fashioned kennels and hello to a place that showers your pup with affection and turns every day there into a joyride.
Linking Dog Owners in Long Beach: Tailored Boarding Just for You
At the heart of WoofConnect Long Beach is the power of connection. Dogs do best around pals they vibe with. We're dedicated to connecting local dog owners with fellow dog lovers who have similar types of pets, age groups, and energy levels. This smart way of pairing ensures your furball settles in nicely at their temp home. Our community believes in trust, kindness, and sharing our love for dogs. By working together, we create Long Beach's finest dog boarding options, taking exceptional care of our beloved pups.
Your Dog's Cozy Getaway: It's More Than Boarding
Choosing WoofConnect means giving your pooch an extraordinary boarding experience. Forget the lonely kennels and restless nights of the past.Dog Sitters Who Care in Long Beach In Long Beach, dog sitters are really into what they do. They get your pet's breed and energy, giving them the special care they need. Your furry friend will have fun walks, play times, and lots of cuddles every day. We aim to make their stay like a second home, keeping them happy and healthy while they're with us. Let your pet have a fun sleepover without cages, where they can play and meet other dogs. Affordable Dog Boarding: Save Money Without Skimping on Care Great pet care shouldn't leave your wallet empty. In Long Beach, old-school kennels might cost you $30 to $60 daily. WoofConnect has a better option that's easier on your budget. You swap free stays with other dog owners when you both go away, so everyone saves on costs. This way, you get top-notch dog boarding that's easy to afford, and you can relax knowing your dog is with someone who really cares. Well-Matched Sitters in Long Beach Guarantee Success It's pretty clear how dogs from the same breed hit it off right away. They get each other without trying. That's why, at WoofConnect, we match dogs by breed as a priority; it just makes sense. Our sitters know plenty about your pet's specific needs and help them settle in fast for a great stay. Imagine your dog hanging out with someone who totally gets them—it's a warm and friendly vibe all around.