WoofConnect: Free Dog Boarding in Orlando – Ditch the Cages, Embrace the Belly Rubs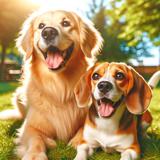 Ever get lost in thoughts of your next getaway but then feel down about leaving your dog behind? Typical pet hotels in Orlando aren't exactly wallet-friendly – we're talking $35 to $55 per day, adding up to $245 to $385 over a week! And let's face it: some lack that cozy touch. You don't just want any spot for your pet; you want them cuddled and cherished, not stuck in a kennel. Enter WoofConnect – Orlando's own hero in the world of dog boarding!
Tailor-Made, Homelike Boarding in Orlando for Your Dog
Picture WoofConnect as one giant paw-ty but for pooches. It's an app that connects dog moms and dads in Orlando. This way, you can find the ideal home-away-from-home for your dog. Think about someone who's got a four-legged buddy same breed and age as yours, someone who totally gets and loves how unique your dog is.
A Family of Dog Lovers Who Speak the Same Language
It's really special to see two dogs of the same breed and age hanging out together. It feels like they have their own secret "dog language," and watching them become instant friends is truly touching. WoofConnect creates peaceful and friendly stay-over experiences by tapping into this unique connection between dogs.
In our dog-loving community, your furry friend will find a vacation pal who shares their energy and personality. It's like finding the perfect playmate for your dog that they didn't even know existed! Even the calm, older dogs who prefer napping over playing will meet a buddy who loves relaxing just as much as they do.
Say Goodbye to Expensive Dog Boarding – Hello, Free Stays
WoofConnect does more than pair your pooch with the perfect place to stay. It challenges the idea that top-quality boarding has to be expensive. With WoofConnect, you can wave goodbye to high kennel fees and welcome totally free, excellent home boarding in Orlando.