WoofConnect: Free Dog Boarding in Tampa – Cages Out, Cuddles In!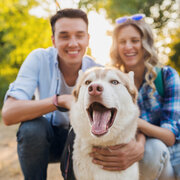 You know that feeling when you're about to go on a much-needed getaway but feel torn about leaving your waggy-tailed pal? Those kennels in Tampa you've been eyeing charge a hefty $35 to $55 daily – we're talking about a massive $245 to $385 for a week's stay! And they just don't have that warm vibe. You want your furry friend in a place filled with tenderness, not confined in a cell. This is where WoofConnect changes the game for dog boarding in Tampa!
WoofConnect: A Cozy Hideaway for Your Dog in Tampa
Imagine WoofConnect as the hippest neighborhood get-together, but it's for dogs. A digital space connecting dog owners in Tampa into a network where you can find a cozy spot for your pooch while you're away. Picture an owner who has a pet similar in breed and age to yours. Someone who understands exactly what your dog needs.
A Bunch of Dog Lovers Who Speak "Dog"
When dogs of alike breed and age come together, it's something special. It's as if they're exchanging secrets in their own canine language, instantly forming friendships. WoofConnect taps into this amazing connection between dogs to foster.