Free Dog Boarding in Port St. Lucie – WoofConnect Has Got Your Back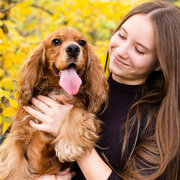 Let's face it, if you're a dog owner, you've grappled with that all-too-common dilemma; where does your fur buddy go when you're hitting the road for a vacation or a weekend getaway? It's tough to even think about dropping off your furry best friend at an impersonal and costly kennel in Port St. Lucie. Let's not even mention those staggering prices, ranging from $35 to $55 a day. A week-long stay could easily set you back a whopping $200 to $350.
When you're soaking up the sun on a beach, you'd want your dog to be frolicking in a place where they feel at home. An environment where someone treats your pup with the same unconditional love and care that you do. Enter WoofConnect. Your personal dog-boarding matchmaker in Port St. Lucie. We find that like-minded dog lover for you, someone who has a furry friend of the same breed and similar age, and is looking for a mutually beneficial arrangement. You watch their dog; they watch yours. It's a win-win!
WoofConnect: Your Dog's New Best Friend in Port St. Lucie
Ever noticed how dogs of the same breed or age naturally gravitate towards each other, speaking their unique doggie language and exuding the same energy levels? It's always a match made in heaven! With WoofConnect, we tap into that natural chemistry. We connect dog owners in Port St. Lucie, helping you find a boarding buddy who has a dog of the same breed or age.
No More Cold, Impersonal Kennels – Welcome to a Homey Dog Boarding Experience
Say goodbye to soulless, cage-like kennels! With WoofConnect, your dog enjoys a welcoming, warm boarding experience. The sitters in Port St. Lucie are from your local community and understand your dog's breed and energy. It's your dog's home away from home, complete with all the belly rubs and ear scratches they could ask for.