WoofConnect: Free Dog Boarding in Tallahassee – Give Your Pooch a Tail-Wagging Vacation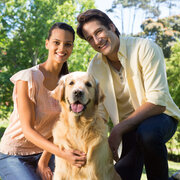 Dog parents in Tallahassee, we all know the struggle. That sinking feeling when you're packing for a getaway, and your furry buddy gives you that "Don't leave me behind" look. Ugh! Heartbreaking, right? That's when you ask yourself, "What's the best way to care for my dog when I'm away?" Shelling out big bucks for an indifferent kennel in Tallahassee? Not on your watch! You'd love a spot where your pup can chillax, feeling just as snug as they do at home. Here's where WoofConnect leaps in to save the day!
WoofConnect is here to revolutionize dog boarding in Tallahassee, pairing your pup with a local dog buddy of the same breed, around the same age, who's just as excited to meet them. This isn't just about boarding; it's about creating bonds, doggy playdates, and a whole community of folks who love dogs just as much as you do.
Find a Doggy Match in Tallahassee with WoofConnect
Imagine finding a dog pal that's a mirror image of your fur-baby – same breed, same energy, and even same age. With WoofConnect, that's exactly what you get! These pups can vibe at the same frequency, and that's always a recipe for a fun and furry good time!
Home-Style Boarding with WoofConnect – No Cages, Just Cuddles
Leave those impersonal cages behind. WoofConnect connects you with local sitters who provide a warm, home-like environment that resonates with your dog's energy and needs. A second home where your dog is not just boarded but loved.