Free Dog Boarding in Gainesville: The Ideal Home-Away-From-Home for Your Beloved Pooch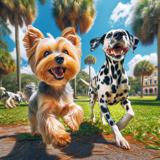 Wondering what to do with your dog when you take a trip or short break? Many pet parents have this dilemma. The idea of placing your beloved dog in an expensive, far-off kennel doesn't sound appealing, right? You want a place that feels like home for your pet, somewhere they'll be loved and catered to just as you would. That's exactly what WoofConnect offers – it helps you find the ultimate dog lover in Gainesville who will treat your pet as their own.
WoofConnect: Linking Dog Owners in Gainesville for Dog Sitting
Think of WoofConnect as a friendly matchmaker that pairs up local dog owners in Gainesville with compatible dogs – those that get along because they're similar in breed, age, and energy. It's like they understand each other's bark language and share the same playful spirit. We promise, it's a perfect match every time!
Choose Home-Like Care Over Cages – A Comfortable Retreat for Your Dog
Say farewell to the depressing space of a regular cage and welcome a warm, home-style setting instead. In Gainesville, you'll find a sitter nearby who knows all about your dog's breed and how active they are.