Dog Boarding Palm Bay – The Free, Home-like Solution for Your Best Friend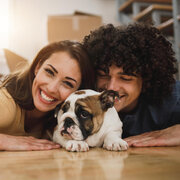 Taking a vacation or stepping out for a weekend getaway? Faced with the age-old conundrum of how to provide the best care for your dog? With dog boarding prices in Palm Bay typically ranging from $40 to $60 a day, the costs of a week-long kennel stay can quickly add up to between $280 to $420. This doesn't even account for the potential lack of personal care and comfort for your pet. Enter WoofConnect: your ideal solution, right here in Palm Bay, offering loving, free dog boarding in a familiar, home-like environment.
Connecting Dog Owners in Palm Bay: WoofConnect's Unique Approach
WoofConnect operates on a simple yet innovative premise. We believe that dogs of the same breed and similar age tend to connect better. They have a shared 'language,' exhibit similar energy levels, and generally understand each other well. Our unique platform in Palm Bay connects dog owners with pets of the same breed and age, facilitating a warm and understanding environment for your pet while you are away.
Beyond Traditional Dog Boarding: A Community of Pet Lovers
At WoofConnect, we've created a community of dog lovers. By connecting pet owners with similar dogs, we've fostered a network that extends beyond simple pet sitting. It's a shared camaraderie that sees you caring for a dog that mirrors your own and vice versa. It's not uncommon for our dog owner pairs to arrange reciprocal care, transforming this necessary arrangement into enjoyable playdates for both pets and owners alike.