WoofConnect – Free Dog Boarding in Brandon: A Home-like Retreat for Your Dog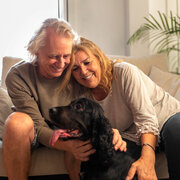 As a dog owner in Brandon, you understand the gravity of finding reliable, compassionate care for your beloved pet when you're away. Traditional options – impersonal and costly kennels – often fall short. What you desire is a homey environment where your furry friend is showered with love, and treated as a cherished family member. WoofConnect is here to revolutionize dog boarding in Brandon, delivering exactly what you need!
WoofConnect creates a bridge between dog owners in Brandon, enabling them to care for each other's pets during vacation times. We pair pet parents with similar breeds, ages, and energy levels, ensuring a harmonious, home-like boarding experience. With WoofConnect, you no longer have to bear the guilt and worry associated with conventional kennels. We're here to usher in a new era of dog boarding—one founded on trust, compassion, and mutual love for our canine friends.
Experience Tailored, Home-like Dog Boarding in Brandon
WoofConnect offers your dog a boarding experience akin to a luxurious staycation. Our dog sitters are passionate pet enthusiasts who understand your dog's breed and energy level. This understanding allows for personalized attention, daily walks, ample playtime, and endless cuddles.
The best part? It's entirely free! Unlike traditional dog boarding facilities in Brandon, which could set you back anywhere from $35 to $55 per day (totaling an exorbitant $200-$350 per week), WoofConnect offers a remarkably cost-effective solution. By fostering a community where dog owners support each other, you can save significantly on pet care costs without compromising on your dog's well-being and happiness.