WoofConnect: Free Dog Boarding in Lakeland – Your Dog's Ideal Home Away from Home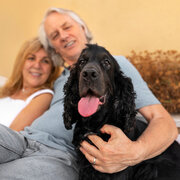 When you are a Lakeland-based dog owner, finding trustworthy and loving care for your pet while you are away is paramount. Traditional options, such as impersonal, costly kennels, often fall short of expectations. You want your furry family member to enjoy the comfort of a homely environment where they are showered with affection and treated as an adored part of the family. This is precisely the experience that WoofConnect promises, completely revolutionizing the concept of dog boarding in Lakeland.
WoofConnect creates a connection between dog owners in Lakeland, enabling them to care for each other's pets during vacation time. By pairing pet parents with similar breeds, ages, and energy levels, we create a harmonious boarding experience that feels just like home. With WoofConnect, you no longer have to worry about the usual guilt and anxiety associated with traditional kennels. We're pioneering a new era of dog boarding—one that is built on trust, love, and mutual care for our canine companions.
Enjoy a Customized, Home-like Dog Boarding Experience in Lakeland
WoofConnect ensures your dog relishes a boarding experience that feels like a lavish staycation. Our sitters are fervent pet lovers who understand your dog's breed and energy level. They ensure your pet enjoys personalized attention, fun walks, ample playtime, and plenty of affectionate cuddles.
Moreover, the best part? It's completely free! Compared to conventional dog boarding facilities in Lakeland, where you could pay anywhere from $30 to $50 per day (which totals to a substantial $210-$350 per week), WoofConnect provides a fantastic cost-effective alternative. By fostering a community where dog owners support each other, you can significantly cut down on pet care expenses without compromising on the love and attention your pet receives.