Get the Best of Both Worlds: Free Dog Boarding in Lehigh Acres in a Home-Like Setting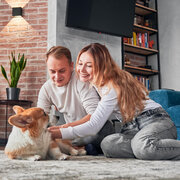 One question inevitably haunts every dog owner in Lehigh Acres: Where can I find trustworthy and compassionate care for my dog when I'm away on vacation or a weekend trip? Leaving your loyal companion in an impersonal, overpriced kennel doesn't sit right with you. The desire for a home-like environment where your dog feels cherished and relaxed is a common thread among pet parents. WoofConnect comes as the perfect solution, a beacon of hope in your quest for the ideal dog boarding in Lehigh Acres. This platform connects you with a dog lover who'll treat your pooch with the same adoration and care you would, right here in Lehigh Acres.
WoofConnect: Your Bridge to Fellow Dog Owners in Lehigh Acres
At WoofConnect, we're all about creating connections. We help you find that perfect match – other dog owners in Lehigh Acres looking for boarding for dogs of the same breed and similar age. When your dogs share the same 'canine lingo' and energy level, it's like they've known each other forever – a match made in doggie heaven!
Nurturing Dog Boarding in Lehigh Acres – Your Dog's Comfortable Home Away from Home
Welcome to a world where cages are obsolete, replaced by nurturing care in a homely setting right in your neighborhood. WoofConnect is your go-to destination for dog boarding in Lehigh Acres, where we transform your dog's boarding experience from ordinary to extraordinary. We embrace the idea of dogs staying with caretakers who understand their breed-specific needs and energy levels. It's like your dog is staying with family – what more could you ask for?