WoofConnect: Free Dog Boarding in St. Petersburg (FL) – It's All About Love, No Cages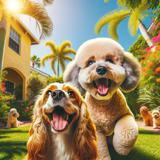 You know that feeling of guilt when you think about going on a much-needed vacation and leaving your best fur buddy behind? Especially since kennels in St. Petersburg, Florida, aren't easy on the wallet, charging $35 to $55 per day. When you add that all up, it's seriously pricey!
Paying between $245 and $385 every week for dog boarding can get expensive. Plus, those places can feel so impersonal and clinical. You want your furry friend to be spoiled and loved, not stuck in a small space, don't you? Well, say hello to WoofConnect, the fresh and innovative dog boarding platform in St. Petersburg that has arrived to change all that!
Custom Comfort Boarding in St. Petersburg Especially for Your Furry Friend
WoofConnect is not just another dog kennel service. It's more like a dating site for dogs and their owners in St. Petersburg. It builds an active network where you can discover the ideal home-away-from-home for your pooch. Picture this: another dog lover who owns a dog that's the same breed, mix, and age as yours. Someone who really gets the unique behaviors and antics of your tail-wagging pal. These pups understand one another, they "talk" the same canine language, and have matching levels of pep. That sounds like a dream come true for dogs!
A Group of Dog Enthusiasts in St. Petersburg
Doesn't it warm your heart when you see dogs of the same breed and age hanging out? They appear to converse in their own bark-speak, and their immediate friendship is simply too adorable. WoofConnect leverages this natural connection among dogs to ensure peaceful and fun boarding stays. In this dog-loving community, your dog will be paired with a holiday companion that reflects their activity level and personality. It's as if you've found your dog's twin! Even older dogs, who prefer naps over playtime, will meet a buddy who enjoys relaxing just as much.