WoofConnect: Free Dog Boarding in Cape Coral – Your Dog's Home Away From Home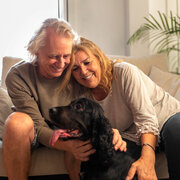 Are you tired of fretting over what to do with your beloved furry friend when you go on vacation or a weekend getaway? I mean, you can't exactly take them along for the ride, right? Sure, you could leave them at one of those cold and impersonal kennels in Cape Coral, but wouldn't you rather find a place where your dog feels comfortable, cozy, and cared for? A place that feels like home? Well, hold on to your leashes, folks, because WoofConnect dog boarding Cape Coral has got you covered!
WoofConnect Connects Dog Owners in Cape Coral for Boarding Bliss
Let me introduce you to WoofConnect – the ultimate solution for dog owners in Cape Coral who want their furry buddies to have a paw-some time while they're away. So, here's the scoop: WoofConnect connects you with other dog owners in Cape Coral who have dogs of the same breed or crossbreed and similar age. It's like finding a playdate for your pup, but on a whole new level!
Loving Boarding for your Dog – Homey Vibes
Picture this: no cramped cages, no lonely nights, just pure love and care for your canine companion. With WoofConnect, your dog gets to stay in a cozy, homelike environment with a caring sitter from your own neighborhood. And here's the best part – these sitters are not just any random people off the street. Oh no! They are dog enthusiasts who know the ins and outs of your dog's breed and energy. It's like having a home away from home for your pup.